Any File, Any Place, Any Time
SpaceJammit is the newest, simplest way to upload, store, and share files no matter where you are. This galaxy-themed file storage application allows you to easily access digital files from a computer or mobile device. The application is intuitive to use, simple to understand, and affordable. Get ready to launch into SpaceJammit with these overviews of how to use the platform.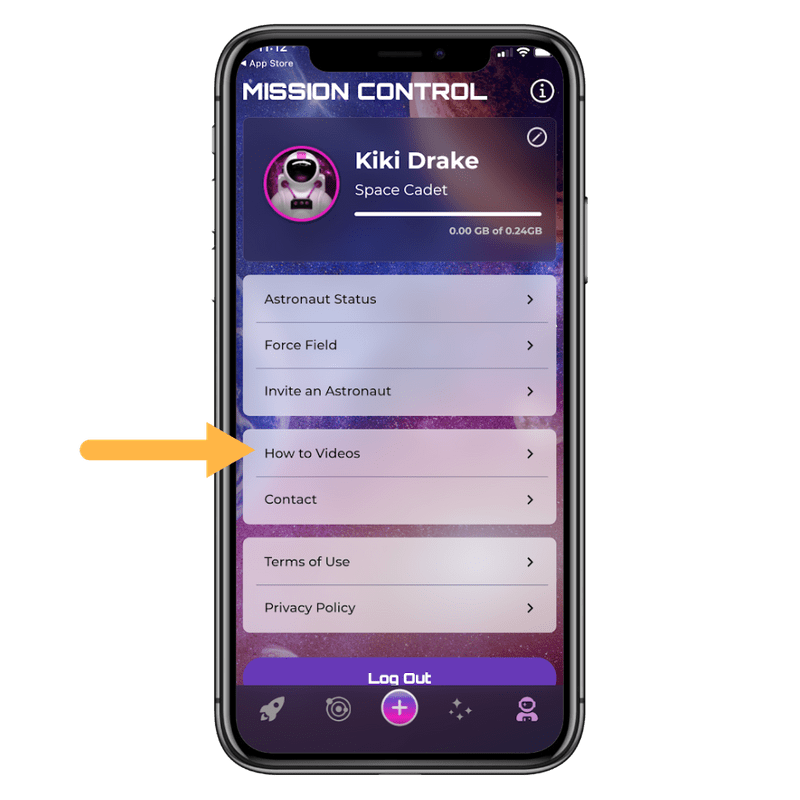 Read The Astronaut's Handbook Before Taking Off
The Astronaut's Handbook is an index of all the terminology you'll need to understand before blasting off. You can access this dictionary by clicking on the "i" image in the upper right on Space Frontier or the Mission Control.
Setting Our Sights On Space Frontier
Whether you prefer Apple, Android, Windows, MacBooks, or tablets, SpaceJammit will store images, videos, audio files, and most other file types as "stars" in your collection. Once you sign up and log in, you'll reach the Space Frontier screen, which is your main dashboard. On the Space Frontier screen, you can see your recent files and view your current storage usage. Click the toggle button to customize your view or use search to sort your stars in a particular order. It is here that you can navigate around SpaceJammit to upload a new star, find your shining stars (favorite files), and manage galaxies, which are the folders that hold all of your stars files.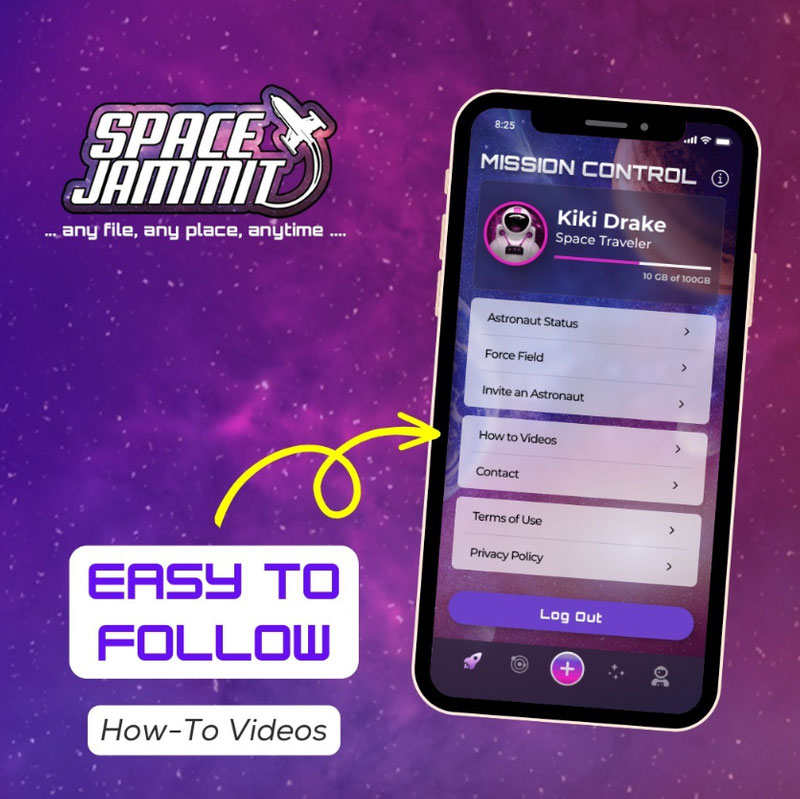 Mission Control - Your Admin Panel
On the Mission Control screen, you can update your account plan, add more storage space, change your password, request help, and much more. Have some fun and customize your image. Forgot your username ? Click on the pencil to verify astronaut details such as your user name, email account used, and current storage plan.
Discover It With Fellow Astronauts
Space Titan is best used for those interested in a family plan or group plan that regularly share files. This plan supports one administrator and four additional astronauts (users) to access the same stars and galaxies. The admin user will be able to update multiple settings for the group including adding or removing astronauts, updating access settings, and changing permission settings. Keep in mind you can always share stars with other people, even if you don't have a Space Titan account. Space Titan simply makes it easier to collaborate and is a collective hub for all of your galaxies and projects.
At SpaceJammit, we believe that file sharing should be easy to understand, convenient to use, quick to deliver, and fun to experience, which is why we've created a platform that allows you to fully customize and share any file, with anyone, in any place, at any time.