For $59.99, you can purchase a 12 month Space Pilot plan in SpaceJammit AND have a chance to win the Joe Limandri Jr #62 MotoAmerica Ninja 400 'A" bike.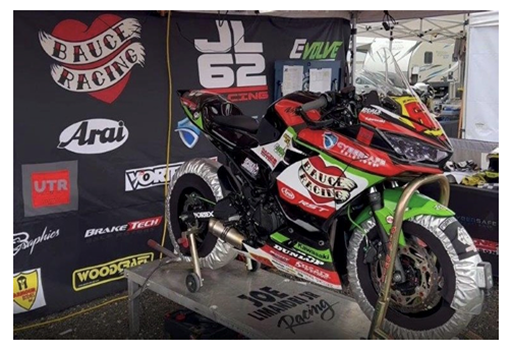 Compatible with apple, android, and pc devices.
Supports all image, video, audio, and common standard file formats
Convenient, easy to use- build and maintain a life history of "stories" in file storage
Only 300 total entries for this contest!
This is the exact bike that took 2nd at Barber Motorsports @ the MotoAmerica Junior Cup round in 2022.    Full track ready bike build that is turn key and comes with an assortment of spare parts. Fresh motor with only 1 race weekend still with race livery and full race trim. Includes a set of rain tires and multiple sets of "lightly used" race tires.
SpaceJammit is the class leading file sharing app. Easily share files with your friends and family. They can access your shares without downloading anything or creating an account!
In Mission control, signup for the 100 GB Space Pilot annual plan @ $59.99/year. Additional information will be emailed explaining how to purchase multiple tickets for those that want to increase their odds. ** Additional tickets are $50 after the purchase of the annual plan ** Only a total of 300 plans will be sold!